Hi,
I have Bayesian estimated my model and have acquired a standard deviation of 0.0117 for the shock that I am interested in explaining and analyzing. When I use stoch_simul and use stderr 0.0117; it will result in explosive dynamics error and asks to use pruning. When I reduce the standard error of the shock to 0.001 then it can simulate the and give results without pruning. My question is if I want to submit my research in a journal, can and should I use pruning or I should the maximum value of standard error that results in no explosive dynamics and therefore does not require pruning?
I have included the results of the model with the estimated standard deviation shock with pruning and the model with very low standard deviation shock without pruning below. The first row is the one with sd=0.001 and no pruning and the second row is for the estimated sd=0.0117 + pruning. As you can see the simulated total ouput (Y_tot) and labor (L) have noticeable difference between the two and change the explanation of the effects of the shock.
Thank you in advance.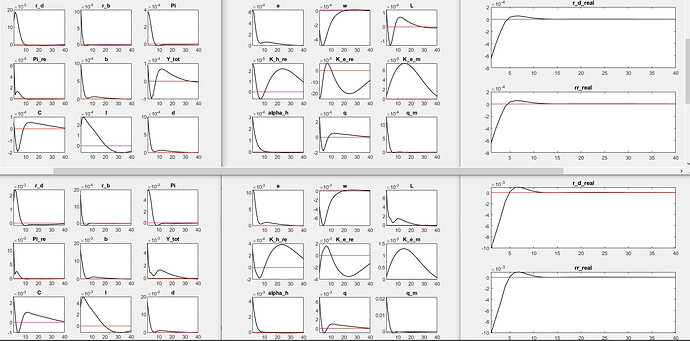 The code I use for each one: